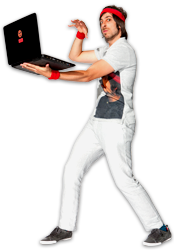 Max Ross created the online fantasy game of All Worlds Conqueror of All Worlds . He's an eccentric multi-millionaire with a taste for conspiracy theories.
He is so rich he can go camel racing and also he shoots his glass of milk (which he gets directly from his personal cow) after he finishes it.
Max Ross seems to be jealous of Wyatt due to his ability to do things on the game that he could not and he is very lazy much times.
He has a warehouse and mansion.
Beta things in beta form go in the HQ warehouse, alpha things in beta form go in his mansion. His alpha forms of the beta AND alpha are unknown where they go.
Even though Max Ross created the game Conqueror of All Worlds he said that a chinese girl did some of the work for free as said in Headquarters.
Weird Carl could have helped also because he knew the puzzle piece but Dante said he does too much sudou.