Lyle Hugginson
Biographical information
Physical description
Species

Human

Gender

Male

Height

Tall

Mass

N/A

Hair color

Black

Eye color

N/A

Skin color

Dark

Avatar information and weapons
Affiliation

Neverfail

Avatar

Wizza

Weapons

Thunder Pole
16 year-old
Lyle Hugginson
is the high school quarterback. He's a charming, popular jock who keeps his love of online fantasy games a secret, because it could really hurt his rep if that kind of thing got out. His dad Mayornard is the mayor of Daventry Hills and he owns two cars: a red Chervolet with white stripes; a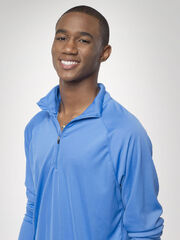 orange-red Chevorlet. He is the quarterback on the football team the the
Trojans
. His friend is
Reggie
. He is good at most sports, but is a master at snowboarding, golf, and football. He has never been dumped or rejected by a girl he asks out before.
Personality
Lyle is relatively cool headed most of the time, but whenever their is a problem with a leak, or his social life, than he'll freak out. During a fight, whether it's in the game or real life, he's level headed and determined to get the job done, he does however have a fear of rodents. He also tends to say Huzzah! whenever he succeeds in the game. When he sees something cute he loses his cool faster than lightning.
Fighting
Lyle possess the Thunder pole. See this to see all spells so far and what they do.
When he fought the troll in the Level Up movie he wore a vest, French hat and sunglasses. His weapon was a golf club.
Companions
His dad Maynard the mayor of Daventry Hills.
His friend Wyatt
His half-friend half-enemy Angie
His friend Dante
His football friend Reggie
He was formerly friends with Leroy
Lyle's former pet Belverdear
Gallery
Community content is available under
CC-BY-SA
unless otherwise noted.