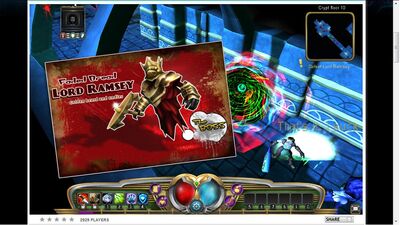 Lord Ramsey is the boss of the Crypts that resides on the tenth floor. He is a large, silver-plated knight with a crown-like helmet. He has a golden beard that's literally made o' gold. According to his quote, he also wears undies. He has the power to spawn monsters. A nickname is the "Faded Dread."
"His beard is gold and bright, its in the weavers loom. Youll be wearing manties as you dance upon his tomb!"~Bard after you take the Golden Beard to the armoror
The picture of Lord Ramsey on the boss card has a different armor color than the actual Lord Ramsey;the boss card has a gold color, while the actual Lord Ramsey has silver. This was probably a mistake.
The Bard's message in the game has a minor error;the contraction "you'll" is missing the apostrophe.