Blast-a-Ton is a weapon of Wyatt and his video game character Black Death. It is orange and yellow and gray. It also has some green and red at the selection side. The selection side can glow orange-yellow. It had only red and green panels at the beginning and as Wyatt discovered what they were, he labeled them in duct tape. When he found out all of them, he printed the names out and put them on the panels. It has a crystal turning knob. Blast a ton can shoot out many things. There are handles to carry it on the top and back. You can switch the thing you want to shoot out. You then pull a level and press on the red button. It has a tube at the top and is very heavy. It has cylinders at the bottom.
Reg blast a ton can only shoot sixteen things but below are 23 not including fairy tale characters. We don't know there names, but we will work hard to find them out.
Blast-a-Ton is Wyatt's primary weapon. It has several forms and can shoot many projectiles. See Blast a ton 2.0 and Blast a ton 2.5. It is not melee because the sucker punch still shoots out and goes back to blast a ton.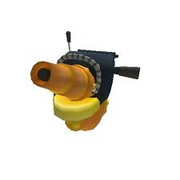 Class - Ranged
Melee Attack - ???
Ranged Attack - Projectiles
Powers
/...-ig name
OFFICIAL NAME OF OBJECT-EPISODE-OBJECT
Unknown: - Pink Glowing Spheres with Ribbons that Explode
SUCKERPUNCH  - Boxing Glove
THE CLAM:  - Clams people to the ground
Unknown: - Green-lined Wire
ZESTER: - saw blade
XOl'!!! -
MINI NUKE: - Rocket
PIN: -
AUX: -
DOG/M.B.F.- A Demon Dog
Unknown: - Exploding Monarch Butterfly
Unknown:  - Monarch Butterflies (doesn't explode)
Unknown/SNAPPERS - Mouse Traps
SHLO-MO, SCHLOMO/SHLOMO: - Slow Mo Darts
CONFETTI - Colorful Ribbons
ELECTRIC BOLT - Light Blue Lightning
TAZELER: - Lightning bullets
UNICORN: -
HERO - Clown
Unknown : Jack and the Beanstalk -Fireworks
Sherlock Holmes, Big Bad Wolf (Canine Dog), Snow White: Jack and the Beanstalk - Plug in ePod to Shoot
Episodes
Movie: Reg
Barbarian: Reg
Wormhole: Reg
Black Death: Reg
Bicyclops: Reg
Leroy: Reg
Hampire: 2.5
Sole Provider: Reg
Max Squared: 2.5
Blast-a-Ton 2.0: 2.0, 2.5
Charm Bracelet: Reg
HQ: Reg
Acid Spittin' Mini Dragon: 2.5
Community content is available under
CC-BY-SA
unless otherwise noted.