Black Death
Biographical information
Born

N/A

Died

N/A

Physical description
Species

N/A

Gender

Male

Height

6 ft. 5'

Mass

N/A

Hair color

Blue/Black

Eye color

Black

Skin color

Chalk

Avatar information and weapons
Affiliation
Avatar

Thieving Thug

Weapons
Black Death is Wyatt's avatar in conqueror of all worlds. He is the most skilled of Neverfail and is very muscular, the opposite of Wyatt. He has a real arm and a bone one. His torso has black clothing and bones across the chest to look like a ribcage. He has black hair. He obtains the blast a ton and wears a shield on his back. According to Wyatt, he has his own bard (a person who praises him), four wives, owns mansions in three provinces and is 6 feet and 5 inches tall. He must be rich with gold. He is the leader of Neverfail because he plans the missions. He once leaked from the game in the episode Wyatt Presents:Avatar in 3-D.
Class - Thieveing Thug
Level - 70
Primary Weapon
- Blast-a-Ton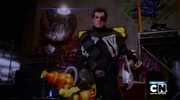 Secondary Weapon - Shield
Third Weapon - Blast a ton 2.0
Black Death was level 70 in the movie, and leveled up in the episode Leveling Up. He should be level 71, but in Blast a ton 2.0 he is still 70.
Black Death makes sense. Wyatt's last name is Black and Black Death was a disease/plaque.
Wyatt is an honor student in real life, but in the game he is a thug who steals.
Black Death doesn't use Blast a ton 2.5 because it was Dante's idea and is only in real life.
Black Death is very strong, Wyatt is not.
Black Death does not use Blast a ton 2.0 often.